Hey there Beauties! I wanted to share with you all a campaign that I am currently running to help me with Building and Branding "Artistry By Lo'Real". Artistry by Lo'Real is the name of the business I am looking to build in order to provide makeup services whether it be for a makeover, wedding, prom, photoshoot, etc.
As some of you may know (or may not), my health condition continues to be very costly making things that I need very difficult for me to afford. I am pretty much bound to my home-lots of limitations and adjustments to my life. However, I am determined to push through and succeed in building a business in makeup artistry. There are No obligations to donate, and NO amount is too small or too great. The choice is all yours, but I wanted to share with my readers one of the projects that I have recently began working on. I thank you all for your patience, support, encouragement, etc. Wish me luck with reaching my goal!!
OR you may click on the image below.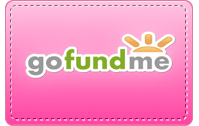 Hugs N Lipsticks!!!!